Posts for tag: celebrity smiles
By Alvarado Dental Group
September 08, 2018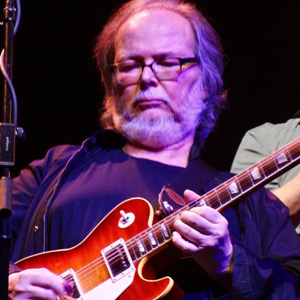 Fans of the legendary rock band Steely Dan received some sad news a few months ago: Co-founder Walter Becker died unexpectedly at the age of 67. The cause of his death was an aggressive form of esophageal cancer. This disease, which is related to oral cancer, may not get as much attention as some others. Yet Becker's name is the latest addition to the list of well-known people whose lives it has cut short—including actor Humphrey Bogart, writer Christopher Hitchens, and TV personality Richard Dawson.
As its name implies, esophageal cancer affects the esophagus: the long, hollow tube that joins the throat to the stomach. Solid and liquid foods taken into the mouth pass through this tube on their way through the digestive system. Worldwide, it is the sixth most common cause of cancer deaths.
Like oral cancer, esophageal cancer generally does not produce obvious symptoms in its early stages. As a result, by the time these diseases are discovered, both types of cancer are most often in their later stages, and often prove difficult to treat successfully. Another similarity is that dentists can play an important role in oral and esophageal cancer detection.
Many people see dentists more often than any other health care professionals—at recommended twice-yearly checkups, for example. During routine examinations, we check the mouth, tongue, neck and throat for possible signs of oral cancer. These may include lumps, swellings, discolorations, and other abnormalities—which, fortunately, are most often harmless. Other symptoms, including persistent coughing or hoarseness, difficulty swallowing, and unexplained weight loss, are common to both oral and esophageal cancer. Chest pain, worsening heartburn or indigestion and gastroesophageal reflux disease (GERD) can also alert us to the possibility of esophageal cancer.
Cancer may be a scary subject—but early detection and treatment can offer many people the best possible outcome. If you have questions about oral or esophageal cancer, call our office or schedule a consultation. You can learn more in the Dear Doctor magazine article "Oral Cancer."
By Alvarado Dental Group
July 30, 2018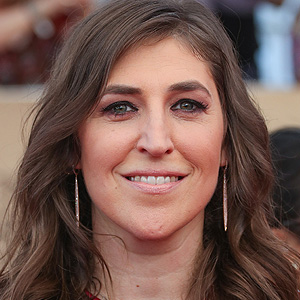 Mayim Bialik has spent a good part of her life in front of TV cameras: first as the child star of the hit comedy series Blossom, and more recently as Sheldon Cooper's love interest — a nerdy neuroscientist — on The Big Bang Theory. (In between, she actually earned a PhD in neuroscience from UCLA…but that's another story.) As a child, Bialik had a serious overbite — but with all her time on camera, braces were just not an option.
"I never had braces," she recently told Dear Doctor – Dentistry & Oral Health magazine. "I was on TV at the time, and there weren't a lot of creative solutions for kids who were on TV." Instead, her orthodontist managed to straighten her teeth using retainers and headgear worn only at night.
Today, there are several virtually invisible options available to fix orthodontic issues — and you don't have to be a child star to take advantage of them. In fact, both children and adults can benefit from these unobtrusive appliances.
Tooth colored braces are just like traditional metal braces, with one big difference: The brackets attached to teeth are made from a ceramic material that blends in with the natural color of teeth. All that's visible is the thin archwire that runs horizontally across the teeth — and from a distance it's hard to notice. Celebs like Tom Cruise and Faith Hill opted for this type of appliance.
Clear aligners are custom-made plastic trays that fit over the teeth. Each one, worn for about two weeks, moves the teeth just a bit; after several months, you'll see a big change for the better in your smile. Best of all, clear aligners are virtually impossible to notice while you're wearing them — which you'll need to do for 22 hours each day. But you can remove them to eat, or for special occasions. Zac Efron and Katherine Heigl, among others, chose to wear clear aligners.
Lingual braces really are invisible. That's because they go behind your teeth (on the tongue side), where they can't be seen; otherwise they are similar to traditional metal braces. Lingual braces are placed on teeth differently, and wearing them often takes some getting used to at first. But those trade-offs are worth it for plenty of people. Which celebs wore lingual braces? Rumor has it that the list includes some top models, a well-known pop singer, and at least one British royal.
So what's the best way to straighten your teeth and keep the orthodontic appliances unnoticeable? Just ask us! We'd be happy to help you choose the option that's just right for you. You'll get an individualized evaluation, a solution that fits your lifestyle — and a great-looking smile!
For more information about hard-to-see (or truly invisible) orthodontics, please contact our office or schedule a consultation. You can read more in the Dear Doctor magazine articles "Orthodontics for the Older Adult" and "Clear Aligners for Teenagers."
By Alvarado Dental Group
June 20, 2018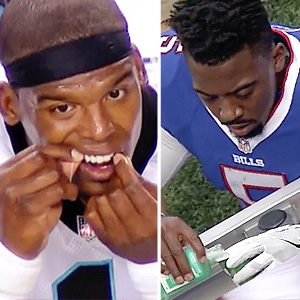 Everyone knows that in the game of football, quarterbacks are looked up to as team leaders. That's why we're so pleased to see some NFL QB's setting great examples of… wait for it… excellent oral hygiene.
First, at the 2016 season opener against the Broncos, Cam Newton of the Carolina Panthers was spotted on the bench; in his hands was a strand of dental floss. In between plays, the 2105 MVP was observed giving his hard-to-reach tooth surfaces a good cleaning with the floss.
Later, Buffalo Bills QB Tyrod Taylor was seen on the sideline of a game against the 49ers — with a bottle of mouthwash. Taylor took a swig, swished it around his mouth for a minute, and spit it out. Was he trying to make his breath fresher in the huddle when he called out plays?
Maybe… but in fact, a good mouthrinse can be much more than a short-lived breath freshener.
Cosmetic rinses can leave your breath with a minty taste or pleasant smell — but the sensation is only temporary. And while there's nothing wrong with having good-smelling breath, using a cosmetic mouthwash doesn't improve your oral hygiene — in fact, it can actually mask odors that may indicate a problem, such as tooth decay or gum disease.
Using a therapeutic mouthrinse, however, can actually enhance your oral health. Many commonly available therapeutic rinses contain anti-cariogenic (cavity-fighting) ingredients, such as fluoride; these can help prevent tooth decay and cavity formation by strengthening tooth enamel. Others contain antibacterial ingredients; these can help control the harmful oral bacteria found in plaque — the sticky film that can build up on your teeth in between cleanings. Some antibacterial mouthrinses are available over-the-counter, while others are prescription-only. When used along with brushing and flossing, they can reduce gum disease (gingivitis) and promote good oral health.
So why did Taylor rinse? His coach Rex Ryan later explained that he was cleaning out his mouth after a hard hit, which may have caused some bleeding. Ryan also noted, "He [Taylor] does have the best smelling breath in the league for any quarterback." The coach didn't explain how he knows that — but never mind. The takeaway is that a cosmetic rinse may be OK for a quick fix — but when it comes to good oral hygiene, using a therapeutic mouthrinse as a part of your daily routine (along with flossing and brushing) can really step up your game.
If you would like more information about mouthrinses and oral hygiene, contact us or schedule a consultation.
Office Hours

| | |
| --- | --- |
| Monday: | 8:00 AM - 5:00 PM |
| Tuesday: | 8:00 AM - 5:00 PM |
| Wednesday: | 8:00 AM - 5:00 PM |
| Thursday: | 8:00 AM - 5:00 PM |
| Friday: | 8:00 AM - 12:00 PM |
| Saturday: | Closed |
| Sunday: | Closed |